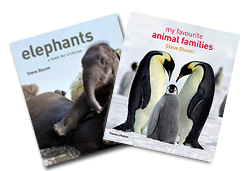 Elephants, a book for children!, a delightful children's adaptation of the coffee table book Elephant!, pairs well with My Favourite Animal Families which brings to life animal families from around the globe.
My Big Cats Journal and My Polar Journal are fun and informative as they follow Steve on various adventures.
The books are available in a range of languages including English, Dutch, Finnish, French, German, Hungarian, Romanian, and Spanish, as well as a couple of exclusively French titles to help with those language lessons.

Free bookmark included with every book purchased.

Up to 50% off Foreign Language Editions

In this stunning new book, Steve Bloom expresses the essence and the diversity of Africa. From the tallest sand dunes in the world to the swirling markets of Ethiopia to the windswept rocks and gullies of South Africa's Table Mountain, he captures the colours and cultures of Africa today. In a series of essays, Bloom combines vivid personal experience with a passionate articulation of the challenges faced by Africa's people and environment in the 21st century. Everywhere is apparent his deep affection and affinity for the continent where he grew up, and to which he has felt compelled to return throughout his life.

Living Africa is also available as a Limited Edition Boxed Set. The book comes in a beautiful handmade box, limited to only 200, with one of three signed, individually created fine art matt prints, each in an edition of 66/67.

Languages: English, Danish, Dutch, French, German, Italian, Polish, Spanish.
20% off Foreign Language Editions

ENGLISH EDITION IS CURRENTLY UNAVAILABLE APART FROM THE LIMITED EDITION BOXED SET

Free bookmark included with every book purchased.
Short film
Sample Spreads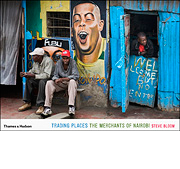 This photographic portrait of the merchants of Nairobi offers an encounter with a community rarely glimpsed by outsiders. Steve Bloom has ventured away from the centre of this dynamic African metropolis into neighbourhoods where malls and supermarkets have not yet penetrated. Here people buy their daily necessities locally, from small traders in their communities. Shopkeepers decorate their hoardings with hand-painted signs. The results are often delightfully quirky - an authentic form of popular street graphics.

Free bookmark included with every book purchased.
Short film
Sample Spreads


In this joyous celebration, with photographs from the wildest outreaches of Botswana to the teeming cities of India, there are many surprises. The photographs include aerial shots from helicopters, the drama of battle between angry males, tender interaction between mothers and calves, the rich decorations of the elephants of India and astonishing shots of the elephant under water. If the eye is the window of the soul, then Steve Bloom looks straight into the eye of the elephant, delving deep into its psyche with his hauntingly beautiful images. Here is the ultimate book on the elephant, as intimate a photographic journey into the animal kingdom as has ever been made.

Languages: English, French, German, Italian, Japanese, Norwegian, Spanish.
20% off Foreign Language Editions and Slipcase Edition

ENGLISH EDITION IS CURRENTLY UNAVAILABLE APART FROM THE SLIPCASE EDITION

Free bookmark included with every book purchased.
Sample Spreads

Steve Bloom's goal has been to search for the spirit of the world's wildlife: the tiger's eyes gleaming in the jungles of India; polar bear cubs seeing the world for the first time; the few mountain gorillas left in Africa. The result is a perpetual dance for the eye, the embodiment of nature's choreography, an intimate exploration which reveals not only the animals but much that is new to us about ourselves. Accompanied by his own commentaries, as passionate as they are informed, and thought- provoking quotes from legendary figures such as Mahatma Gandhi, Gerald Durrell and Emily Dickinson, Spirit of the Wild brings to the fore the common experiences of all living beings.

Languages: English, Danish, French, German, Italian, Spanish.

20% off Foreign Language Editions

Free bookmark included with every book purchased.
Sample Spreads

UNTAMED is a collection of Steve Bloom's finest wildlife work. For more than ten years Steve travelled all over the world, roaming through the jungles of Borneo, the African Savannas and the frozen banks of Antarctica to assemble a dazzling collection of photographs. With more than two hundred pictures in full colour, this magnificent book has 426 pages which include eight giant fold-out panoramic images.

Untamed is available as large hardcover, and smaller format paperback.
We can supply the large hardcover book in the following language editions:
English, Dutch, French, German, Hungarian, Italian, Lithuanian, Portuguese, Russian, Spanish.
20% off Foreign Language Editions

Free bookmark included with every book purchased.
Sample Spreads


LARGE FORMAT NOW OUT OF PRINT - ONLY A FEW REMAINING

In Praise of Primates is a visual tribute to our closest genetic relatives. Steve Bloom has created a spectacular portfolio of images which goes beneath the skin and shows a rare insight into the world of these animals. Steve spent two years working on this project which resulted in his first book. It achieved phenomenal success and was published in ten languages.


NOW OUT OF PRINT - ONLY A FEW REMAINING

Languages: English, Danish, French, German, Italian, Spanish, Swedish.
20% off Foreign Language Editions

Free bookmark included with every book purchased.
Sample Spreads

Steve Bloom's books have been published in more than 70 editions worldwide in many different languages. We have limited numbers of other language eiditions available.
A selection of Steve Bloom's childrens' books are published only in French.

We stock books in the following languages:
Danish, Dutch, English, Finnish, French, German, Hungarian, Italian, Japanese, Lithuanian, Norwegain, Polish, Portuguese, Romanian, Russian, Spanish, Swedish.

20% off Foreign Language Editions

Free bookmark included with every book purchased.